Short-term loans up to $50,000
Low-interest starting from 18%
Repayment up to 156 weeks
In-page navigation
---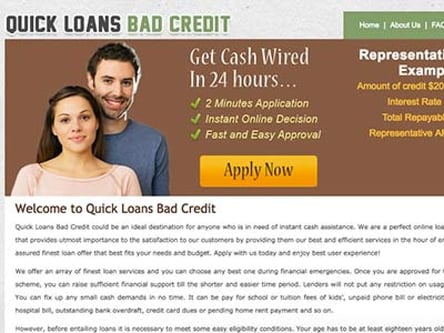 Author Quick Loans Bad Credit . Screenshot of Quick Loans Bad Credit website.


[Accessed March 3, 2023]
About Quick Loans Bad Credit
Quick Loans Bad Credit is an NZ broker that caters to people with adverse credit histories.
Unlike banks, credit unions and other alternative lenders who are only willing to work with people with near perfect credit histories, our business caters to people with bad credit. We can help customers attain unsecured or secured personal loans of between $50 to $50,000 - a diverse loan range that can suit almost any purpose.
A panel of lenders you can rely on
Our loan applications are conducted online where we will obtain details and documents that can support your loan application. Once we've reviewed your application we will then present this application to our panel of lenders. This panel of lenders is made up of the country's leading bad credit lenders who are able to offer short-term loans regardless of how bad your credit history may be.
Quick Loans Bad Credit Services
We understand that it's frustrating and difficult for people who have bad credit to accept denial after denial when applying for credit at large banks and credit unions.
We are a bad credit loan broker that can help people just like you find a lender or lending product that will look past your bad credit and focus on your ability to repay the loan. The supporting documents that we will request will depend on the type of loan and amount that you request.
Don't let cash shortages get you down!
Our bad credit payday loans are perfect for catching up on overdue bills and making purchases. If you're looking to buy a car or bike our loans will provide you with just the right amount that you need. The loan term will depend on the loan amount and your regular income - lenders will always be willing to adjust your loan term and repayment schedule to suit you. Quick Loans Bad Credit will be available to assist you with all your questions and needs during the quick loan application process.
Quick Loans Bad Credit – Short-term loan
Loan Type

Short-term loans

Interest Rate

18 – 26% p/a

Loan Amount

up to $50,000

Repayment

14 days to 156 weeks
Benefits of Quick Loans Bad Credit
SHORT-TERM Loans
PERSONAL Loans
Short-term loan calculator
Short-term loans are ideal when you need cash in a hurry
Applying for a loan through traditional lenders such as banks with a bad credit history can be nearly impossible and multiple applications which lead to multiple credit checks only make the situation worse.
Bad Credit is not the end of the world
The problem is that people with bad credit usually don't know where to look or who to turn to when in need of short-term credit. They will generally apply to institutions they have used in the past and are familiar with only to be turned down. This is why we believe that people with bad credit should use the services of a broker who specifically deals with such cases - they are better positioned to help you with compassion, efficiency and expertise.
Why using a broker makes sense
Using the services of a broker such as Quick Loans Bad Credit is the best choice one can make since we will require you to complete only one application and are experienced in acquiring loans from bad credit lenders. This will increase your chances of finding a loan that meets you loan amount needs, your income, your budget and your loan term wishes - since we will deliver your application to multiple lenders for consideration.
It will also help you find the best deal available for your needs since you can easily compare all the different options and choose the one that is the most affordable. You can provide a guarantor or security for your loan if you wish and, this may help you secure better rates and terms.
Applying for a bad credit loan
To apply for a loan from Quick Loans Bad Credit you must be 18, be a resident of NZ, have a bank account and be in full time employment. If you are self employed you can also apply for a loan as we will request 3 months worth of bank statements to ensure you have a regular and stable income. Our online application will take you only 2 minutes and you can access a loan of between $50 and $50,000.
You are free to use the loan for any purpose that you wish - we will not request to know the details but, you may have to broadly specify the loan purpose. If you're ready to apply for a bad credit loan, make your way to our application page and we'll be in contact with you to begin making the necessary arrangements.
Customer Reviews & Testimonials
"
Great service from the consultants, my loan was paid over less than 24 hours later.
Abbie G.
— Whanganui —
I actually found the service to be average in comparison to other reviews for the company. Not that bothered though, as I could manage the online application process without extra help and I had ...
Donell Hardy
— Auckland —
Quick Loans Bad Credit Contact
Contact Number
E-Mail
Website