Short-term loans up to $3,500
Low-interest up to 227%
Repayment up to 45 days
In-page navigation
---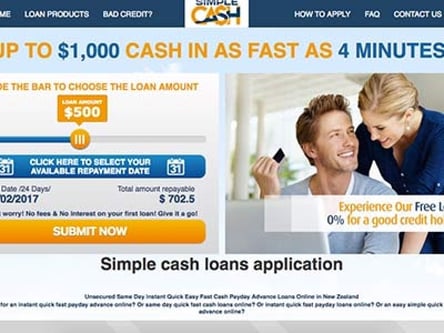 Author Simple Cash. Screenshot of Simple Cash website.


[Accessed March 3, 2023]
About Simple Cash
We have been a part of the Ferratum Group which was established in 2005, servicing clients far and wide.
Simple Cash is one of the obvious choices when it comes to obtaining funds when you need them the most! Since we specialise in quick loans, we have ensured that all the necessary rules and regulations are in check to protect both ourselves and you, the consumer. We are therefore a Registered Financial Provider and lend money responsibly.
We strive for excellence
We make it our business to strive for excellence through all levels of customer service. Our fast and efficient service are without a doubt some of the best in the market and we go beyond the call of duty in terms of our tailor designed offerings.
Let a dedicated team help you
With a dedicated team of staff, we insist on offering the latest and greatest throughout all channels and branches. That means that we will serve you both in person and electronically. We won't charge you for using us either! We believe that you should have as simple a process as possible when applying for a loan.
With immediate responses and mobile technology, it's no wonder we have over 1.5 million clients worldwide! Avoid painful and tedious processes with the banks and enjoy the effortless loan application process with a microloan lender such as ourselves. Short-term loans mean quick access to money and Simple Cash insists on giving you just that!
Simple Cash Services
When emergencies arise, so do the needs for quick funds! That is why short-term loans are so popular.
Among the list of short-term loans that are favoured at Simple Cash, payday loans and quick loans are extremely popular. There's a simple reason for this, and it's due to the nature of how simple they are to obtain and how ideal the solutions on offer truly are.
Loan requirements
When you apply for a short-term loan, you should consider a number of factors. The first being that this type of loan is specifically designed for clients that only need a small amount for a limited period of time. Short-term loans fall into the microloan category and will be successfully approved to individuals that meet the minimum criteria required.
Use your loan for anything
No matter what your reason is for taking out a short-term loan, there are no questions or judgements on our side, you can spend it as you please. Our online loans don't require any credit checks before approving the loan. It's purely your affordability that we look into. With that said, it is still wise to understand the rates and fees of short-term loans before you apply.
First-time customers can borrow up to $200 and will receive these funds directly into your account before you know it! Within 24 hours of submitting your online application, you can have access to your cash. Your borrowing amount grows as the relationship with Simple Cash does.
Simple Cash – Short-term loan
Loan Type

Short-term loans

Interest Rate

227%

Loan Amount

up to $3,500

Repayment

7 days to 45 days
Benefits of Simple Cash
Flexible terms
Competitive short-term loan deals
Quick loan payouts
Short-term loan calculator
Simple Cash understands your short-term needs!
Though these loans come with a high level of risk, there is a valid reason for it.
Since the loan is unsecured, there is absolutely no security for the lender when the borrower decides he cannot repay the loan. At Simple Cash, we do not perform credit checks that could impact your approval, we choose to assess your affordability.
If you're someone who's racked up a lot of bad credit, then you're also getting a bad credit loan with us, except you should also pay attention to your affordability, because you're the first person to know whether you can afford to repay the entire loan or not. We don't like to hold the past against you, so, we'll give you access to the cash you need when you need it!
Something to consider
If you're struggling to pay all your bills each and every month, don't be too hasty when it comes to taking out a short-term loan. It's not only the capital amount you need to worry about, but you'll also be liable for any interest and admin fees. Be careful not to overindulge on the short-term loan since the amount still needs to be repaid. Borrow only as much as you need and nothing more!
It's called short-term for a reason. It shouldn't become a regular thing in your life. If you become too dependent on borrowing money to pay for things, then you'll end up needing it in the long-term, which only creates debt. Never mind the fact that you will be at risk for worsening your credit score, but you're limiting yourself to the amount of credit you can borrow in the future if you miss payments or short pay on any of your instalments.
It's short-term – make it work
If you're taking out a loan, pay it on time. If you're taking out a second loan, use the same provider for ease of use and potentially better rates. If you're blacklisted, use the loan to improve your credit score. Make regular payments and settle the loan on time. If you do these few things, you're likely to be rewarded, and that's making your loan work for you!
Customer Reviews & Testimonials
"
My loan was approved in less than ten minutes and I could access the money by that evening. Super pleased with their professionalism.
Milly C.
— Wellington —
The online application process is not as easy as it looks to understand, but the money was transferred in less than four hours.
Harris D.
— Masterton —
I had to pay off the last remaining amount on my car installments, and thankfully their professionalism saved me from running around scraping money together. My loan was approved in mere minutes ...
Rochelle C.
— Queenstown —
Simple Cash Contact
Contact Number
E-Mail
Website
Physical Address
132 Hurstmere Road

Auckland

0622

New Zealand
---
Postal Address
PO Box 33-1009, Takapuna, 0740, New Zealand
Opening Hours
Monday

09:00 – 17:00

Tuesday

09:00 – 17:00

Wednesday

09:00 – 17:00

Thursday

09:00 – 17:00

Friday

09:00 – 17:00

Saturday

– Closed

Sunday

– Closed