Personal loans up to $50,000
Low-interest starting from 12.95%
Repayment up to 5 years
In-page navigation
---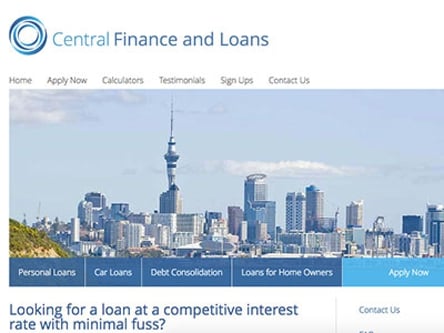 Author Central Finance Loans. Screenshot of Central Finance Loans website.


[Accessed March 3, 2023]
About Central Finance Loans
When you're looking for a quick way to get a personal loan, look no further.
Central Finance has all you need to get that extra cash. Don't waste precious time scouting around for the right loan company. This will drag down your self-esteem as well as become quite annoying.
An experience that benefits our Customers
Central Finance in New Zealand has a complete understanding of people's needs when it comes to looking for the right quick loan to suit their requirements. We have years backing our experience in the industry. Years of helping people get the financial rewards and offering a committed service to those who need it.
Let us exceed your expectations
We are not new in the industry, with a client retention rate exceeding expectations and, the ability to offer online payday loan products to suit every need, we can help you today. We let you take a back seat while we do all the work for you. Our processes are simplified to make life a lot easier for our customers. We don't harp on unnecessary issues when it comes to providing loans. We streamline a simple solution with one application, one credit check and, do all the searching amongst our NZ lenders to find you the best possible solution.
Our loans have the best rates
With Central Finance you get an all in one service, with quality customer care from a team who sees every client as an individual. Get an accredited financial firm on your side, which can source the best personal cash loan deals, at the best rates and, the best repayment terms available to you. Call us today or simply apply online, it's that easy!
Central Finance Loans Services
Personal Loans, unsecured loans and much more from a team of experienced financially orientated people at Central Finance.
We have the short-term loan product you have been looking for. We won't back down at a challenge to be the best financial provider in New Zealand.
Secured personal loans
When you need a personal loan, you do not always have to provide security. We can source through our lenders for the ideal loan for you. For larger amounts where you can supply security, we can assist you with bigger amounts to add to your cash flow.
Get up to $5,000 Today
Get a personal loan between $1,000 and $5,000 and get it approved in only 2 hours. These loans can be used towards anything you like. There is always a need for a little extra cash, and we can help you get it. Our car loan options will help you get rid of the old and in with the new! With our car loans, you get cash to go out there and make a cash deal on the car you want. Our motor check plan secured your purchase safely, by doing necessary checks on the vehicle you want to buy. We check if the car has been registered, if it wasn't a stolen vehicle and if there is no cash owing on it from the previous owner
You can become debt free
Our debt consolidation loans are the best way to get rid of all those little debts you have managed to build up. Take all your credit cards, store cards and little loans and pay them off with our debt consolidation loan. You will end up only having one monthly or weekly instalment to pay for, and less interest on what you would have been paying.
Central Finance Loans – Personal loan
Loan Type

Personal loans

Interest Rate

from 12.95%

Loan Amount

up to $50,000

Repayment

6 months to 5 years
Benefits of Central Finance Loans
PERSONAL Loans
VEHICLE Loans
DEBT Consolidation
LOANS for Home owners
Central Finance Loans are the experts when it comes to quick personal loans
Get personal loans, home financing solutions, debt consolidation, vehicle finance options and much more from Central Finance in New Zealand.
We take pride in our service delivery to our Kiwi clients, knowing that we can add a positive outcome to their financial needs. Our loans have an interest rate of around 12.95% with specialised terms and loan amounts which you can Choose from.
Getting a personal loan is simple
If you are under the age of 25 years, you can qualify for a loan of $1,000. Should you be over 25 years and have security such as a home as an asset, you can get between $1,500 and $5,000. We also have larger personal loan offers which may require security reaching up to $500,000. You can get a property loan from Central Finance ranging from between $3,000 and $500,000.
5-minute application - 100% online
You would need to provide your ID documents and 2 months bank statements with your application. Our online loan application process takes only 5 minutes to complete. Once we have assessed your information and whether or not you can afford the loan you are applying for, we will affirm your application with approval, and send you tour loan terms of the agreement.
Home and car loan products
If you need bridging finance to cover the deposit of your new home we can also help you with this. We have every loan you could possibly think of. Cars are not easy to come by at a good deal. Making a cash offer is where you may get a good price. We can offer you car finance which allows you to go to the dealer with cash in pocket!
Whatever you need, we will help you get it
Apply online through our simple application process and get the instant loan sent directly into your banking account. Call one of our experienced consultants on 0800 100 630 and get cash tomorrow! There is a solution to all your financial requirements. We have it all here online and available with experience, innovation and a genuine care for our client's needs. Join the financial firm with the financial leverage to get you the right quick loan, to suit your budget and your needs.
Customer Reviews & Testimonials
"
CFL offered me the best rates on a secured personal loan, I recommend them with ease.
Al M.
— Queenstown —
I was pleasantly surprised when I could complete my application entirely online in just a few minutes.
Kari L.
— Wellington —
Central Finance Loans Contact
Contact Number
E-Mail
Website
Physical Address
1 Magnolia Place

Richmond

Nelson

7020

New Zealand
Opening Hours
Monday

08:00 – 17:00

Tuesday

08:00 – 17:00

Wednesday

08:00 – 17:00

Thursday

08:00 – 17:00

Friday

08:00 – 17:00

Saturday

13:00 – 16:00

Sunday

13:00 – 16:00