Personal loans up to $20,000
Low-interest starting from 12.95%
Repayment up to 5 years
In-page navigation
---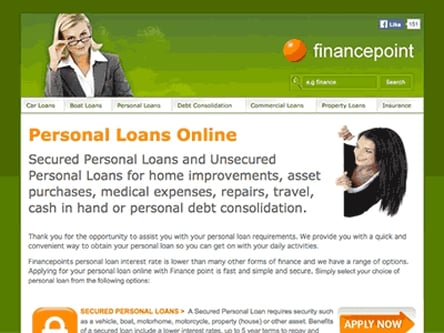 Author Finance Point. Screenshot of Finance Point website.


[Accessed March 3, 2023]
About Finance Point
Our expert brokerage service is dedicated to making the borrowing experience easy, simple and satisfactory for you, our valuable customer.
We provide professional assistance to New Zealanders looking for personal loans and property finance.
Let us know what you need from us
Simply tell us about your circumstances and requirements and we will find a solution which meets your needs precisely. This is done by leveraging our extensive knowledge of financial services providers and our carefully collected information on your needs. Our expert consultants will answer all of your questions in an effort to give you complete confidence and peace of mind when you find a loan online us.
Our loan types
Our job is to help you make the right decision but it is you who will ultimately decide how much to borrow and how to repay the loan. We specialise in both secured and unsecured personal loans. With us, you will have maximum flexibility when making a decision about your long or short-term loan and future financial goals and decisions.
Finance Point Services
You can cover your financial obligations under one loan by consolidating debt or even utilize the loan to take your family away on an awesome holiday.
With Finance Point, you can obtain a personal loan which suits your needs and your budget easily and quickly. Furthermore, we are able to offer very low interest rates and very flexible repayment terms.
Choose your terms
We will do everything necessary to accommodate you and you can rely on our expertise to guide you every step of the way. We will act swiftly and professionally to make things convenient for you. With our guidance, you can confidently select a loan term and repayment structure that will ensure you are absolutely comfortable financially, both in the short and long term.
Debt consolidation is the key
We can assist you to find a loan for the purchase of a car, for a family trip, for home repairs and even for debt consolidation. Whatever you need a loan for, we can help you. With us, you are able to apply via our online loan application which will eliminate the hassle associated with travelling to a branch and waiting in a queue. This saves you time and ensures you have access to multiple markets leading offers and not just a single lender or loan.
Finance Point – Personal loan
Loan Type

Personal loans

Interest Rate

from 12.95%

Loan Amount

up to $20,000

Repayment

6 months to 5 years
Benefits of Finance Point
CAR Loans
BOAT Loans
PERSONAL Loans
DEBT Consolidation
Finally, finance solutions that suit your needs
With a quick online application, simple requirements and personal loans that come at affordable rates - Finance Point offers benefits others simply can't.
That is the primary concern of customers looking to find a loan online – speedy, straightforward and innovative loans and we offer exactly that!
Quick & easy online applications
Our adaptable and easy to use processes make the whole application streamlined and simple so all clients can get quick cash in no time. Access your application online for fast loan approval and have cash in your account in only a few hours.
Can I get pre-approved?
To meet the requirements you need to be a New Zealand resident, more than 18 years old, and have a month to month income that has been going into your banking account for at least the past 3 months. If you meet these requirements you can then instantly fit the bill for a pre-approval on one of our personal loans.
You should choose us
Our repayment terms make getting a low rate personal loan significantly easier than with most finance companies. Furthermore, your instalments will be affordable, so they won't significantly influence your regular spending plan. Finally, our competent and experienced staff members will go the extra mile to ensure that once your loan application is in, one of them will get back to you in minutes with the answer you want to hear. Advances up to $5,000 can be approved and delivered through our straightforward online processes in just minutes.
Loans for all your needs
Free yourself of obligations hanging over your head, and have more cash at the end of the month to carry on with life as normal. Get instant cash for those overdue bills, accounts, auto repairs and home upgrades.
Now you can pay for the wedding you've always dreamed about, and bear the cost of unexpected expenses like car repairs. Whatever you require the personal loan for Finance Point is here to help.
Customer Reviews & Testimonials
"
Finance Point is amazing, they listened to my needs and helped me decide which of their loan options was right for me.
Sarah C.
— Dunedin —
Very flexible loan repayment terms to choose from. They are very affordable.
James C.
— Auckland —
I originally had a look at the loan options on their site, I had a few questions so I called the call center. The consultant who helped me was very good and I left the call well informed and read...
Elspeth M.
— Christchurch —
Finance Point Contact
Contact Number
E-Mail
Website
Physical Address
St Leonards

Napier

Hastings

4120

New Zealand