Personal loans up to $5,000
Low-interest starting from 22.95%
Repayment up to 16 weeks
In-page navigation
---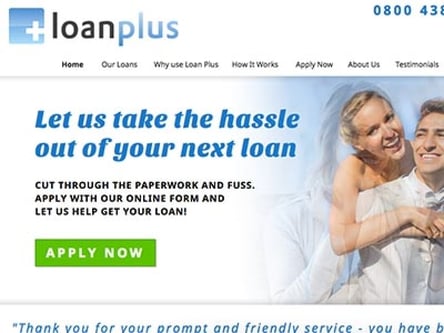 Author Loanplus. Screenshot of Loanplus website.


[Accessed March 3, 2023]
About Loanplus
Loanplus in New Zealand provides accredited and approved financial assistance.
Specialising in all loan services, clients can obtain a personal loan from a wide range of financial products available to them. With updated and new products continually being added to our portfolio, we ensure our clients get the most recent loan products in the NZ market.
We are here to help
We are all about making life a bit simpler for New Zealanders and getting our customers cash when they need it. We make our services personal, standing alongside our customers during the entire loan process. We offer our help when you need it and are there for our clients, should they require an alternate quick loan option. We are transparent and completely flexible, making our customers feel at ease when times are tough.
Need a little extra cash to get by?
Our staff are all qualified in their respective fields and, have a strong knowledge of the loaning and financial business. This gives our clients the guarantee that they are always getting the right people working on their personal loan needs. All our business and client accounts are handled with the utmost discretion, providing a safe and easier way for New Zealanders to get funds when they need that little extra to get by. Loanplus is also associated with the Dispute Resolution Scheme FSCL ensuring that we and our clients are covered in any situation.
Loanplus Services
Loanplus proudly offers New Zealanders a wide range of personal loan services to meet the needs of any financial situation.
By offering simple and accessible loan products to our clients, we eliminate the hassle of long queues at the bank, overrated payment terms and complicated application processes.
Personal loans
These are the most common loans we have available to our clients. With the ability to use these personal cash loans for whatever reason you see fit, they are versatile and come in handy for any financial situation you may be in.
Car loans
Car loans with no security needed it's easier than ever to obtain with LoanPlus. You can work out just how much you need to borrow with our convenient calculating tools and see just how much your instalments will be. Get rid of your old broken down car and get some new wheels from just 14.95% interest.
Unsecured loans
LoanPlus unsecured loan options range between $1,000 up to $30,000. These unsecured short-term loan terms are usually offered in repayment agreements of between 1 and 5-year plans. The repayments on these terms are affordable and in line with your budget.
Loanplus – Personal loan
Loan Type

Personal loans

Interest Rate

22.95 – 29.95% p/a

Loan Amount

up to $5,000

Repayment

10 weeks to 16 weeks
Benefits of Loanplus
PERSONAL Loans
CAR Loans
UNSECURED Loans
HOME Loans
Loanplus has effective solutions to help you cover emergency expenses
LoanPlus has made applying for a loan an easy and quick process.
When the everyday consumer in New Zealand needs a cash boost, having a simple application and, affordable terms, makes the entire process much easier. With technology in so many fields making everyone's life easier, we have implemented an online process from beginning to end making our loan products the most sought after option.
Follow these easy steps:
Apply for the loan you are wanting on our website application. This is where you can choose which loan best suits you and your required needs. Anything from personal loans, debt consolidation loans and home and car loans, they are all there for the picking. With the application come a few personal questions you may need to provide. Your name, address, salary details, and a few simple details about your expenses.
Summary of our Offerings
To sum up the loans, you can get a personal loan of between $1,000 and$30,000 over 1 to 5 years. This loan can be used for almost anything. Pay your medical expenses, finish paying off your home or car, take a vacation or pay for your children's education. If you would like a more secured loan offer, such as a vehicle or home loans, your credit record would have to be in line with the qualifications. If not, someone would have to sign surety on your behalf.
Debt Consolidation
Loanplus has these options which can not only get you out of a financial bind but allows you to have more money in your budget each month. By combining all your little loans and debts into one consolidation loan, Loanplus can offer you consolidated options, to pay these debts off with only one monthly instalment. This gives you control over your repayments, knowing you don't have to manage or budget for a multitude of loans.
To consolidate your debt is a clever way of reducing your monthly instalments while paying off your accumulated debts. Instead of paying off 4 or 5 loans, pay only one. Once your application has been completed, it is immediately submitted and checked with our lenders. This entails a few minor areas, such as affordability of the required consolidation loan and credit checks.
Property loans
Should you be looking into buying a new home, you can use your existing mortgage as security in to increase your chances of getting that dream house approved. The restructured payments on your mortgage are always affordable and in line with your budget. It's now a lot simpler and less red tape involved in upgrading to a better or bigger home. LoanPlus assist clients with home loans of up to $100,000.
The approval process
This is the part where you will be informed of your loan is approved, and the signing of the loan contract in terms of the conditions provided to you. The online calculator will allow you to work out how much you want to borrow, and what the repayments on that amount will be. The calculator does not, however, include the admin fees which will be added into your final contract on approval.
To give an indication of what our rates on our loans are:
Loans secured by Property range from 15.95%
Car Loans from 14.95%
Secured Personal Loans from 14.95%
Unsecured Personal Loans from 21.95%
The next step is where all the magic happens. Once all the steps have been completed, your application is in and approved. You will receive the quick loan in no longer than 24 hours. Your repayment structure will be suitable for your payday, coming off your banking account on the day of your choice.
Customer Reviews & Testimonials
"
Loan Plus is fantastic, their staff is friendly and the loan products are fair.
Amber K.
— Tauranga —
You can easily get a rather large loan at an affordable fee and repayment terms of your choice.
Chloe B.
— Napier —
Loan Plus has offered me good service and a wonderful loan product I can easily afford.
Megan R.
— Nelson —
Loanplus Contact
Contact Number
E-Mail
Website
Physical Address
Unit 2, 6 Cone St

Rangiora

Canterbury

7400

New Zealand
---
Postal Address
Loan Plus Limited PO Box 509, Waimakariri, 7440, New Zealand
Opening Hours
Monday

09:00 – 17:00

Tuesday

09:00 – 17:00

Wednesday

09:00 – 17:00

Thursday

09:00 – 17:00

Friday

09:00 – 17:00

Saturday

– Closed

Sunday

– Closed