Personal loans up to $20,000
Low-interest starting from 12.95%
Repayment up to 24 months
In-page navigation
---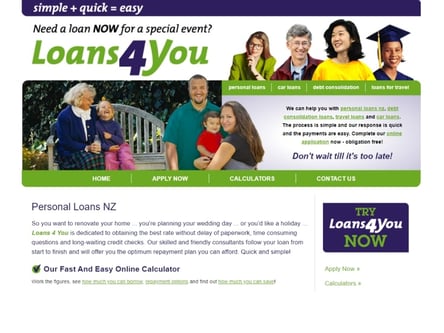 Author Loans4you. Screenshot of Loans4you website.


[Accessed March 3, 2023]
About Loans4you
Loans4you is a New Zealand based company with years of experience in the financial sector. We affiliate our implacable customer service and world-renowned products to our ability to offer more than our competitors in the industry.
We strive for continuously upgrading our technologies to ensure a more streamlined and quicker online loan application process is available for our clients at all times.
Find a loan that suits your budget
We offer personal loan rates and fees which are highly unbeatable in the market, with an online strategy to simplify the entire process. We apply our thinking to the needs of our clients in order to attend to your financial needs and also staying within your budget. Keeping our client's confidentiality private, offering out the box services and quality is a key element to our complete service delivery. We give you same day loan approvals, with one application. We also offer payday loans to clients who feel their credit rating isn't as good as it should be. We will consider all applicants before turning anyone away.
A massive range of loan options
We offer so much choice for our clients. Debt consolidation loans to get you out of those reoccurring built up debts, car and home finance options, personal loans to use as you please and much more. Contact us on our toll-free number on 0508 500 000 or simply apply for your loan of choice online. Get cash quickly within 24 hours and do the things you have always wanted to do, but never had the cash for it.
Loans4you Services
Has your bank balance taken a dip? Is your budget not making it through the month? Do you have too much debt on your hands, struggling to afford all the repayments?
At Loans4you in New Zealand, we can take away all thee frustrations, and offer you a personal loan product which can help you in any situation.
Get a loan of up to $20,000
Get an affordable personal loan to redo and renovate the areas of your home which have been neglected due to having no cash! With personal loans ranging from $2,000 and $20,000, you can now afford to have the wedding of your dreams. Take that long awaited vacation with the family. Get car finance which is equivalent to having cash in your pocket. Haul in on those cash deals from the dealership, and get the best prices on your next car.
Struggling with debt?
Debt consolidation loans can be a lifesaver when you feel like you cannot afford to pay back your monthly instalments on all your credit cards, little loans and store cards. We can offer you a loan to pay off all the4se accounts and debts and only pay for one. Property Finance will help you now go bigger or move to a different area, depending on what your needs are. Let us help you get the property finance you need.
How Loans4You can help you
Let us get you the cash you need for whatever the circumstance may be. Our easy to use loan calculator will assist you in working out how much your personal loan instalments will be on the amount you want to borrow.
Loans4you – Personal loan
Loan Type

Personal loans

Interest Rate

12.95 – 29.95% p/a

Loan Amount

up to $20,000

Repayment

6 months to 24 months
Benefits of Loans4you
Affordable repayment terms
Quick online loan applications
Convenient online calculator
We have a YES attitude to approving finance
Loans4you in New Zealand understand the demand of life's financial woes. You need to pay for things left, right and centre, and before you know it, you cash strapped and nowhere to turn. The thought of having to stand in the bank across town is just tiring to think about.
It's that time of year, you need a holiday. A break will do you good. But it's too expensive to afford that destination you dreamed about. Not anymore! Loans4you have the personal loan options which make all your dreams come true.
The process is easier than ever
Simply apply online; it only takes a few minutes of your time. You can choose the loan which best fits your requirements and lend between $2,000 and $20,000 to use as you please. Your application will be assessed by our experience consultant team, and you will get confirmation of the outcome of your payday loan within minutes.no paperwork, no lengthy credit checks! Quick and simple!
Budget responsibly and save money
Once your application is approved, you will receive the terms of your short-term loan contract to sign. You can then choose the repayment term which suits you best. Weekly or monthly instalments will be deducted from your bank account on the date of choice. This allows you to budget more responsibly. We encourage responsible lending and will offer you an amount which you can afford, alleviating you from getting into debt problems further down the line.
Before you apply for a loan, make sure you are a New Zealand resident, are 18 years old and have a valid banking account. This will make the process a lot quicker for you. Make use of our handy loan calculator, just to give yourself an idea of how much a quick loan will cost you.
Apply for a loan from anywhere!
All of this can be done from the comfort of your home or office. No having to visit the branch or sign endless paperwork. Get your personal loan within 24 hours and do the things you have only imagined possible. Cash is just a click away from being in your bank account. Let us say YES to your loan request, and help you build a better life for yourself – financially.
Customer Reviews & Testimonials
"
Loans4You impressed me with their variety of loan options to choose from. There really is a loan for every budget.
Lori N.
— Lower Hutt —
I wanted some help to fix up my car, L4Y helped me do that and I had access to my money the next day.
Romey D.
— Dunedin —
The interest rate and repayment terms on offer with Loans 4 You is what made me decide to make use of their loan services.
Karon G.
— Invercargill —
Loans4you Contact
Contact Number
E-Mail
Website
Physical Address
6/215 Rosedale Rd

Albany

Auckland Region

0753

New Zealand