Personal loans up to $50,000
Low-interest starting from 14.95%
Repayment up to 5 years
In-page navigation
---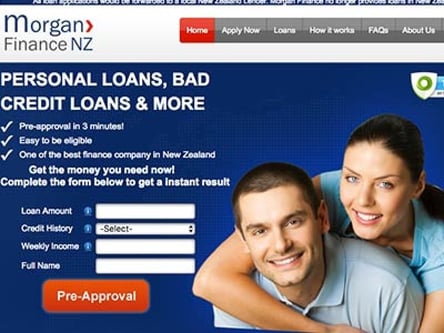 Author Morgan Finance. Screenshot of Morgan Finance website.


[Accessed March 3, 2023]
About Morgan Finance
Morgan Finance in New Zealand offers fast friendly financial services to all looking for financial assistance in the country.
No matter what your cash needs may be that we can help you. Our criteria and lending applications are simple and far less complicated than going through a bank.
Specialists in alternative finance
We are specialists in the financial industry, focusing on customised lending solutions that meet the requirements of our clients in every way. With the years of service in the industry, we have built a reputation of the greatest stature when it comes to providing low rate personal loans in NZ.
Options for bad credit clients
We are also one of the few lending firms which give lending options to clients who have bad credit. Our pre-approval is the quickest you will find and our 3-minute bad credit loan approval is one to be reckoned with. At Morgan Finance who get: instant cash, instant results and proper professional service from a team of experts that really care about your needs.
Low rates for quick loans
Get all your financial needs and extra cash from Morgan Finance. We have the service and the rates which you will battle to find anywhere else in the country. We provided on our promises to our customers, by delivering the best personal loan solutions all around.
Morgan Finance Services
At Morgan Finance you get the credit options which can help you when you are a little strapped for cash.
With Morgan Finance in New Zealand, no appointments or long waiting periods are accepted! We ensure the loaning process is quick, efficient and streamlined for your convenience.
So what do we offer?
We have personal loans which are so exciting for those who want to take a vacation abroad, go forth with the renovations to your home, or just to use as a bridging gap when your cash flow has taken a dip.
Car loans for Kiwis
Our car finance offers are very convenient for those looking to purchase a new car with the best car loan NZ which is also available to those which have a not so perfect credit history.
Another offering we have is a rental loan
This is not always an option with other firms, so we pride ourselves in knowing we can offer our clients this. It's simple and convenient for clients who are renting homes and need an upfront deposit. You also have the option of a home loan, if you want to buy your own home. There are so many financial options and solutions for you to choose from. You are just a click away from getting pre-approved in minutes.
Morgan Finance – Personal loan
Loan Type

Personal loans

Interest Rate

14.95 – 29.95% p/a

Loan Amount

up to $50,000

Repayment

6 months to 5 years
Benefits of Morgan Finance
PERSONAL Loans
BUSINESS Loans
DEBT Consolidation
Need cash in a hurry? Apply for a personal loan & get instant loan approval
At Morgan Finance, your finance and personal loan options are not restricted. Our process are so quick, you will be startled at how quickly your pre-approved loan is carried through.
A three-step application process
With three quick easy steps, you can get approved for whichever loan you are applying for. We have personal loans, home loans, car loans, debt consolidation loans, and much more. Our process starts from a very simple online loan application form, all done online for our client's convenience. By answering just a few little and simple questions about yourself, such as your age, where you live and if you have a steady income. Once you have been pre-approved, you will receive documentation to sign and send back to us. This is the final step before receiving your cash. It doesn't get easier than that!
Real people with real values
With Morgan Finance, you deal with real people with real values. Driving consistency and top-notch service in every short-term loan we provide. We owe our success to being on top of innovative products which hit the market place, and having the potential to bring these to our service offering to our clients.
Borrow up to $50,000 with Morgan Finance
To get approved for finance, you need to specify just how much you would need to borrow. We offer loans ranging frombetween $500 right up to $50,000 with Morgan Finance. This is a pure differentiator amongst our peers, as not many firms will offer these amounts at fixed rates like we do.
Pre-approvals that is speedy
When you are pre-approved for your loan, you have the choice of either taking it or turning it down. You are not obligated to take the quick loan if you don't want to or just change your mind. You are given the choice. To make your loan application even quicker, you can complete the downloaded documented off our site and scan them through. It's that simple. Quick, easy cash!
How do you get your cash?
Well, that's simple. We deposit your personal loan directly into your banking account as soon as it is approved. You do however need to be 18 years or older, be a resident of New Zealand and have a valid banking account.
All our services are done with the utmost confidentiality. None of your personal details is exposed or accessed outside our systems. Should you need a larger amount for your home loan or car loan, you have the option of providing security or to ensure your loan is approved with no questions asked. Having that security to back you up is most beneficial when needing larger amounts of cash.
Contact Morgan Finance today and get pre-approved in minutes!
Customer Reviews & Testimonials
"
The Morgan Finance site was very useful in helping me estimate just how much I could afford to borrow.
Trinity P.
— Auckland —
Simple and easy online application, the platform is very userfriendly.
Elis M.
— Wellington —
Affordable interest rates and easy to manage repayment terms.
Haleigh F.
— Christchurch —
Morgan Finance Contact
Contact Number
E-Mail
Website
Physical Address
24B Moorefield Rd

Johnsonville

Wellington Region

6037

New Zealand