Personal loans up to $30,000
Low-interest starting from 15.95%
Repayment up to 60 months
In-page navigation
---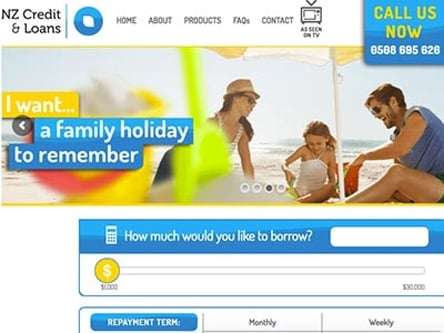 Author NZ Credit & Loans. Screenshot of NZ Credit & Loans website.


[Accessed March 3, 2023]
About NZ Credit & Loans
NZ Credit & Loans has invested a lot of time over the years to find the perfect solution for New Zealanders looking to borrow money.
Through years of experience and a niche in the market for helping clients get financial assistance, we have grown to be one of the most well-recognised lending firms in the country.
Applying for Finance has never been this easy
We have taken the complication out of applying for a loan. No more waiting in queues, going through credit checks and being turned down by every bank you apply with.
Now you can apply for finance through one simple online application, and get the cash you need for whatever you like. We do all the hard work and searching for our clients. We have preferred loan providers that we work closely with, to find our clients the right quick loan solution for their needs and their budget. In no time at all, you can have a little boost in your bank account.
100% Kiwi owned lender
New Zealand residents are finding it a lot easier these days to apply for finance through New Zealand owned companies. That's why we are a top choice for our clients. Our terms are realistic, our rates are competitive and our service is unbeatable.
If we can't find it, no one else can
Save time and money, feel less stressed over your financial situation, and let NZ Credit & Loans find you the perfect online loan for whatever you need it for. We have the perfect fit for you. Fast, efficient and within your budget, let us get you that cash you need.
NZ Credit & Loans Services
NZ Credit & Loans offer clients a solution to their loan needs.
With a list of loan products to choose from, we cater to any situation where cash is needed, quickly. Get a personal loan to use for basically anything. You could be planning your wedding and need cash to pay for that special day. No problem, apply today and let us source the best option from the best supplier for you.
Is it time for a family holiday?
This can really take a knock on your bank account. With a personal loan, you can take the whole family on an extended and memorable vacation.
Get a grip on bad credit
A loan for debt consolidation can be a saving grace when you find yourself paying out more money on loans than what you earn. Scraping through the month and never having any extra cash can really tress you out. With our debt consolidation loans, you can consolidate all your little debts and loans into one payment each month. This results in lower instalment, lower interest and more money for you.
Vehicle finance for Kiwis
Car loans are versatile and very helpful when you need to replace that vehicle which leaves you stranded on the side of the road. We will source the most affordable pre-approved car loan for you, which will allow you to take advantage of cash prices at your car dealer.
Home loans designed with you in mind
Property finance has never been easier to obtain. We can the most reputable finance firms assisting us in delivering the best home finance. Live comfortably knowing your home loan is affordable and reliable.
NZ Credit & Loans – Personal loan
Loan Type

Personal loans

Interest Rate

15.95 – 22.8% p/a

Loan Amount

up to $30,000

Repayment

36 months to 60 months
Benefits of NZ Credit & Loans
Easy online personal loans
Flexible repayment options
Quick online loan applications
For fast loan application and instant loan approval, apply with NZ Credit and Loans today!
NZ Credit & Loans service our customers with affordable personal loans to make their lives that little bit easier to afford the little pleasures in life.
We have easy terms for our client's convenience, allowing you to budget for your repayments. We structure our loans so that you have options as to how you want to pay off your loan with ease.
Three ways to apply
Get a personal loan by applying either online, by telephone or visiting us in person. Whichever option suits you best, we can accommodate your application quickly. For celebrations such as special birthdays, weddings or even a holiday, use your personal loan for whatever you please.
With limited paperwork, we will find the right loan through our convenient network of lenders, and have the cash in your bank account within days. Should you have bad credit, we will be able to assist you will a bad credit loan option. We always have a solution for your financial needs.
Lower your debt repayments
When you find yourself in a situation where you cannot make it through the month on your budget, it may be because you have too much debt on your hands. We have a solution for this situation. Our debt consolidation loans will bring you out of your financial slump. Gather all your debts into one consolidated loan, and reduce your repayments and lower your interest. There is always a solution to having too much debt, and we can offer you this. Debt consolidation loans can also be obtained online, via phone or face to face with our team.
Are you shopping around for a new set of wheels?
Is your car more off the road than on it because of it falling apart? Time to upgrade and drive in style! NZ Credit & Loans offers car finance that will have you driving around in your new car in a flash! Our loan options are provided by lending firms which have incredible clout with the car dealerships. This gives our clients pre-approved cash prices to work on. If this doesn't make you want to apply then nothing will. Best rates and interest on car loans in New Zealand.
Our home loans are affordable and flexible
We spend our lives and raise our families in our homes, making it our special place. If you are looking to build a family and need a bigger home, or would like to opt for another area, we have the property finance that will get you covered. To improve your chances of getting more out of your home loan, use your property equity as security against your loan.
Any loan applied for with NZ Credit & Loans is as simple as clicking on apply. We have the best financial solutions for your needs.
Customer Reviews & Testimonials
"
I could not have come across this company sooner. Life or in this case financial saver of note.
Mary F.
— Whakatane —
I was able to easily get an affordable loan with good repayment terms, I am very happy with the outcome.
Ginny N
— Tauranga —
The site is easy to navigate and the consultant I spoke to later was very informative and kind.
Anissa B
— Queenstown —
NZ Credit & Loans Contact
Contact Number
E-Mail
Website
Physical Address
109 Lyndon Rd E

Hastings

Hawke's Bay

4122

New Zealand