Personal loans up to $10,000
Low-interest starting from 18%
Repayment up to 156 weeks
In-page navigation
---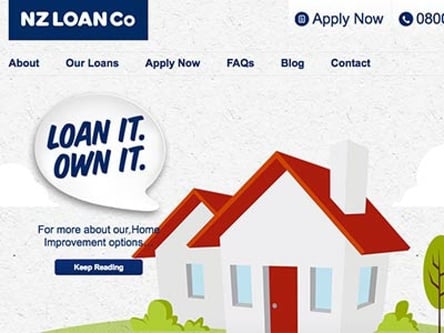 Author NZ Loan Co. Screenshot of NZ Loan Co website.


[Accessed March 3, 2023]
About NZ Loan Co
NZ Loan Co is 100% New Zealand owned and there to offer Kiwis the best personal loan options in the country. We may be small, but our heart and our passion is big.
We have made a mark as one of the toughest competitors in the family. Our team of experts are dedicated to providing all the attention to our client's needs and providing quality service and impeccable products to suit their every need. Whether its cash for personal reasons or to grow your business - we've got you covered.
Loans that meet your financial needs
Over the years, we have given the service our clients demand and deserve. By this ongoing dedication to deliver on our client's expectations, we can ensure you will get service from a group who are here to deliver on our promises and provide the best rates and repayment structures for you. We will customise the quick loan or financial request according to each individual client.
A lender you can trust
When you looking for the right financial partner, you will get the best all round from people who really care. People who know what you want. A short-term loan is just a click away from being in your banking account.
Quick, online applications
Get cash quickly and efficiently without having to leave your seat. Get your financial solution today and get a financial partner for life - apply for a loan online today!
NZ Loan Co Services
NZ Loan Co is proud to be able to offer New Zealand clients a comprehensive and varied list of loan options and financial needs. No matter what you need extra cash for; we have the means to get it to our valued customers.
Now anyone can add a new swimming pool to their home, finish those home renovations which keep getting put off. Or get ready for summer with an air-conditioning installation. Why not get your small business of the ground or go on a long intended holiday? No matter what you need or want the extra cash for, we can help you.
A unique range of benefits
Not only can we get your cash quickly, but we also offer added benefits which allow you to lend between $5,000 and pay it off over 5 years. Our rates are highly competitive in the industry. We offer our clients the choice of paying off their loan weekly, monthly or fortnightly. We also offer unbeatable insurance services for your personal loan products. Upgrade your vehicle or get a different model. Get pre-approved and get cheaper deals from your car dealership with a car loan from us.
Debt consolidation loans
Get rid of all those loans that are taking up your entire salary. Combine into one loan, one instalment and lower interest rates. Get out of debt and have more cash to spend at the end of the month with our affordable debt consolidation loans.
Personal loans
These can be used for anything. There are no criteria as to what you can spend these loans on. Whether it is for business, pleasure, family orientated or just to keep afloat. We have a personal loan for you.
NZ Loan Co – Personal loan
Loan Type

Personal loans

Interest Rate

18 – 26% p/a

Loan Amount

up to $10,000

Repayment

26 weeks to 156 weeks
Benefits of NZ Loan Co
BAD Credit Loans
CAR Loans
PERSONAL Loans
DEBT Consolidation Loan
Get cash quickly and conveniently with NZ Loan Co
We have accumulated a brief of the most regularly made inquiries, perhaps some of these queries will help better understand how incredible our personal loan services are.
Once you have a better understanding of our services, you can quite simply click on our online application and get the cash you need within hours.
What amount would I be able to get?
This is reliant upon various components. The amount you really require and the amount you can honestly afford to pay back. Realistically, if you can calculate this roughly, you will have a good idea of what kind of loan you need.
Our online loan application
We have made the entire process as simple as possible. All loan applications are done online from wherever you are. We also have a backup team of experts on board available for you to chat to should you have any questions or requests.
Build a Relationship with Us
We have a base credit of $5,000. Should you need to borrow more, we will discuss further options such as secured loans with you. Once you have lent from us before and, pay your short-term loans back with no defaults, you will build a credit history with us as a reliable client. This will make lending again at a later stage with us a lot easier with fewer questions or paperwork.
What you Need to Apply
The criteria for getting one of our instant loans are reliant on your circumstance and financial prerequisites.
Lending criteria through our firm are simple. As long as you are over 18 years old, are a resident of New Zealand, and earn a monthly salary (able to pay off your loan), then you should qualify for any of our products.
Rates for Various Loans
Our loans fees are not set. Depending on the amount you lend and the period you wish to pay it off over. Estimation of our rates comprise of:
Car Loans from 11.95%
Marine and boat Loans from 12.50%
Debt Consolidation from 12.95%
Personal cash Loans from 12.50%
Business Loans from 10.00%
Get the cash you need, when you need it, quickly and at the lowest rates. We have the loan solution to suit your ideal needs and in line with your budget.
Customer Reviews & Testimonials
"
I had very particular needs when it came to getting a personal loan - NZ Loan Co understood that and helped me get the loan to fit my needs.
Ami F.
— Whanganui —
NZ Loan Co has been a dream to work with! Easy application process, quick approval, and the funds were paid out the next day.
Lynnette F.
— Hamilton —
Simple and affordable loan option, you cannot go wrong.
Madeleine L.
— Auckland —
NZ Loan Co Contact
Contact Number
E-Mail
Website